CIOReview.com December 23rd 2018
"China and India are both markets that offer great access to talent. We ended up selecting Symbio as they had the exact mix of skill sets and industry expertise that were needed for the project and the team also was a good cultural fit."  – Marie Lee, CIO, Interval International
Headquartered in San Jose, California, Symbio, a global digital services company helps firms build innovative software products and transformative digital services that connect, engage, and amaze their customers. For over 20 years, Symbio's designers, architects, and engineers have taken a customer-centric approach to unlock innovation and deliver exceptional products and service experience. Embedded in its operational DNA, Symbio's innovation and design thinking process go beyond a problem-focused approach to deliver optimum design and functionality for organizations and its customers. Leveraging its decades of product and software engineering experience, the firm has designed and delivered hundreds of successful and innovative digital solutions for clients globally.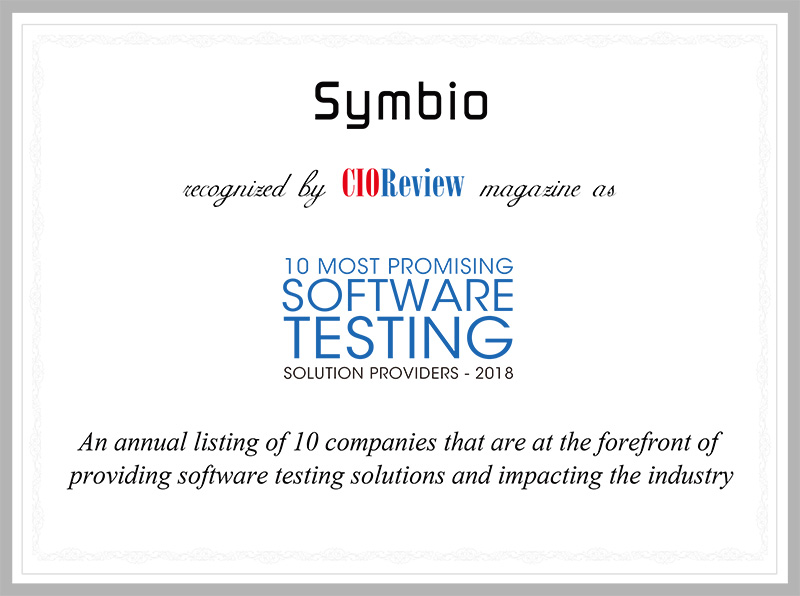 Technologies Leveraged
With Artificial Intelligence (AI) seeping its way into numerous businesses today, key advantages include lower costs, improved productivity, and innovation. Keeping up this up-coming technology, Symbio, partners with firms to revisit their contact center strategies, developing insights that allow clients to see, and use contact center initiatives differently— from a revenue draining cost center to a strong revenue-building channel. Besides, it helps organizations with the cloud challenges of connectivity, latency, and compliance by designing software solutions that give them the Edge Computing capability they need. Not to mention, their Agility and DevOps capabilities, and expertise in advisory to driving and implementing projects equips its clients to deliver faster with Continuous Delivery. This helps transform their internal culture, embracing continued innovation and agile development of new products.
Moreover, with IoT entering the picture and everything going digital—from 'smart' cars to 'smart' watches—the technology behind it all—embedded software development is at Symbio's core. Demand for the firm's embedded software is found across industries, for large and small devices, ranging from small wearables and mobile devices to mining equipment and industrial machines weighing several tons.
"Working with Symbio has enabled us to gain another decisive competitive edge when providing services and solutions to our customers, small to large. Performance Pro 360 is not only a cutting edge product, but it enables us to show how flexible we are in providing rapid feature development and deployment according to concrete needs from the field"
The Innovation:
Firms that are in need of superior testing and innovative QA processes are aware of the value and benefit in partnering with independent software testing providers like Symbio. As business models are changing and expanding, providing software testing and QA services has become more valuable. With software being the critical touchpoint between firms and their customers, a significant amount of time and effort is invested by Symbio in its Software Quality Assurance (SQA) solutions.
To name a few of its solutions; RATA, or Robot-Aided Test Automation, is used by Symbio for every level of testing, thereby, delivering the highest quality technology solutions to market for its clients. RATA tests for unit, integration, system, and acceptance testing needs, and is truly platform independent. "RATA allows us to realize value that would be infeasible without the combination of robotic touch and machine learning," says Sami Kaltala, the Director responsible for Quality Assurance and Testing at Symbio Finland.
Moreover, with the world of mobile testing being deep, broad, and full of pitfalls and opportunities, Symbio ensures it streamlines its QA and testing processes to deliver the highest level of quality, reliability, responsiveness, and efficiency for its client's mobile testing requirements.
"Quality Assurance is more than just testing. Decades of our experience in the testing field have led us to offer testing as a service," mentions Jeff Wu, CEO of Symbio. With its TaaS (Testing as a Service) model, Symbio ensures it reduces costs, helps find errors and problems at an early stage, accelerating access to the market. Besides this, the firm's Automation Dashboard solution is a simple, highly intuitive, white-label management, analysis, and reporting tool. Developed with a focus on automation, real-time data access from multiple sources, and all-in-one integration of multiple test related tools, Symbio's Automation Dashboard enables, effortless automation test run planning, improves processes within the entire organization, and more.
Quality Assurance
Steve Jobs once quoted, "Be a yardstick of quality. Some people are not used to an environment where excellence is expected." Since its inception in 1994, Symbio has focused on Quality Assurance and Software Testing and has grown exponentially into a full-fledged IT service company over the years. Ensuring 'Transformative Digital Services' to connect, engage, and amaze customers, Symbio's innovative testing and testing automation solutions help its customers deliver complex software solutions across multi-device, multi-platform, and multi-lingual environments. Besides, Symbio uses a holistic approach to software testing. "For us, Quality Assurance is not about adding on a testing or quality engineering component to customer's release requirements. It is an integral part of the end-to-end development process. The key is to have the right expertise, the right speed, and agility, and the right tools from product design to execution," says Jeff. "We have made a significant investment in Software Quality Assurance (SQA), and are moving toward digital transformation. Our Quality Assurance services have been used in complex environments and systems across industries—from high-tech consumer products to critical financial applications," adds Craig Schwartz, Head of US Operations, Symbio.
Consistently looking for novel ways to incrementally improve their clients' businesses, Jeff and his team spend time consulting customers and suggesting ways to ensure quality testing. From QA Strategy & Management to Test Planning & Execution, Test Automation to Non-Functional Testing, and Localization Quality Assurance, this comprehensive Quality Assurance and Testing services meet the strict quality standards demanded by customers.
The Functioning
"We provide a comprehensive portfolio of application management and IT services to enable our clients to balance their resource and financial investments. Our innovative engagement model allows us to be responsive to ever-changing technologies and markets, creating long-term partnerships," says Craig.
When Symbio engages customers, it learns their development and testing processes, and ways to work together—remotely, or in their environment—and share the code repository. Symbio then determines the proper approach for its customers during the 'Get Ready Engagement'.
The application development process uses one of two methodologies—Waterfall, where the traditional linear approach is followed, or Scrum, when customers want quick results. "The key for success in both processes is to understand the expectations of customers—both explicit and implicit," elucidates Jeff.
Be it Agile or Waterfall methodology, Symbio ensures in-depth testing and diligent tracking of metrics around the degree of defect, defect ratio, and time required to fix defects—thereby, tuning testing processes to ensure that quality of the software or product is as per the requirements of the client.
"Define it, Nail it, Scale it" is Symbio's strategy—its research and design teams assure a visual prototype to a concept, providing valuable feedback. The team not only "defines and redefines the product, but also defines and refines the market" by using Rapid Application Development methodology and tools. With the help of an Agile approach, Symbio ensures that end-users, administrators, and developers are part of the design process. Once the designs are almost complete, a wider audience is given access to the prototypes for better feedback. Doing away with the traditional ways to develop prototypes, Symbio blends the agile methodology bringing stakeholders and end-users into the process early, thereby ensuring requirements are met.
As Agile processes require heavy interaction between customers, developers, and testers, Symbio provides consulting to many organizations operating across various verticals. It uses frameworks such as Version One, CruiseControl, and Selenium, to help them with their transformation journey.
With businesses across sectors from Automotive to Retail to Travel and Hospitality to Banking to Media and Entertainment to High-tech, Symbio provides a comprehensive approach to its digital services. This includes adopting existing processes and systems for the development and launch of products. Upon engagement with its customers, Symbio reviews and understands issues and collaboratively proposes solutions to problems, and ways to implement solutions.
Globalization and Localization
Customers that target the international market are aware of the need to localize products; hence, Symbio's globalization and localization masterminds provide customized solutions best suited for their customers' international marketing needs. Be it a launch of a small-scale product to localize for a selected market or a full-scale software platform to localize in 80+ languages, Symbio's services includes translation/localization, I18N assessment, and sufficiency testing, in-country deployment testing, and more.
The Demarcation
"While companies around the world are constantly competing for that invincible factor of differentiation, our global technologists are geared to help you get ahead of the pack," asserts Jeff.
What differentiates Symbio is its design sprint, a holistic mindset, a partnering approach and experience in the field. The firm's creative strategies developed at Stanford and Google helps design and deliver hundreds of successful and innovative digital solutions for clients worldwide. Besides, by working closely together with its customers, partners, and the larger developer community, it provides clients the best-designed, most timely, and successful solutions, also uncovering hidden opportunities for greater functionality and profitability.
The Digital Clientele
Symbio strongly believes in creating trusted partner relationships with their customers, and not just a client-vendor relationship. In today's digital and fast-paced world, this is what the market is looking for. PayPal is one of Symbio's key clients for Quality Assurance. Symbio is the only provider of PayPal localization automation services. Utilizing the global reach of Symbio allows for comprehensive localization services. In addition to PayPal, Symbio has partnered with eBay, Microsoft, and Intertek, a global product audit firm, in the testing of applications and processes. Symbio has also helped BNP Paribas, France transform into a financial organization driven by Agility.
As software is becoming omnipresent in consumer products, Symbio is also delivering Quality Assurance in the IoT space. Moreover, Symbio is also one of the few companies in the world who can certify Connected Car solutions for the Automotive Industry. "Besides testing our products for automotive, we do full-stack verification, algorithm verification, and Quality Assurance which includes smartphone integration and certification," adds Craig.
https://staging.symbio.com.cn/wp-content/uploads/2019/01/CIO-cover-page-1.jpg
334
843
symbio
/wp-content/uploads/2019/07/symbio-logo3.png
symbio
2019-01-17 00:50:48
2019-08-19 09:23:47
CIOReview December 23rd 2018 Edition Cover Story